Good Vibes Experiment by Flinders University
Good

Vibes

for

our

everyday

wellbeing
Promotional print collateral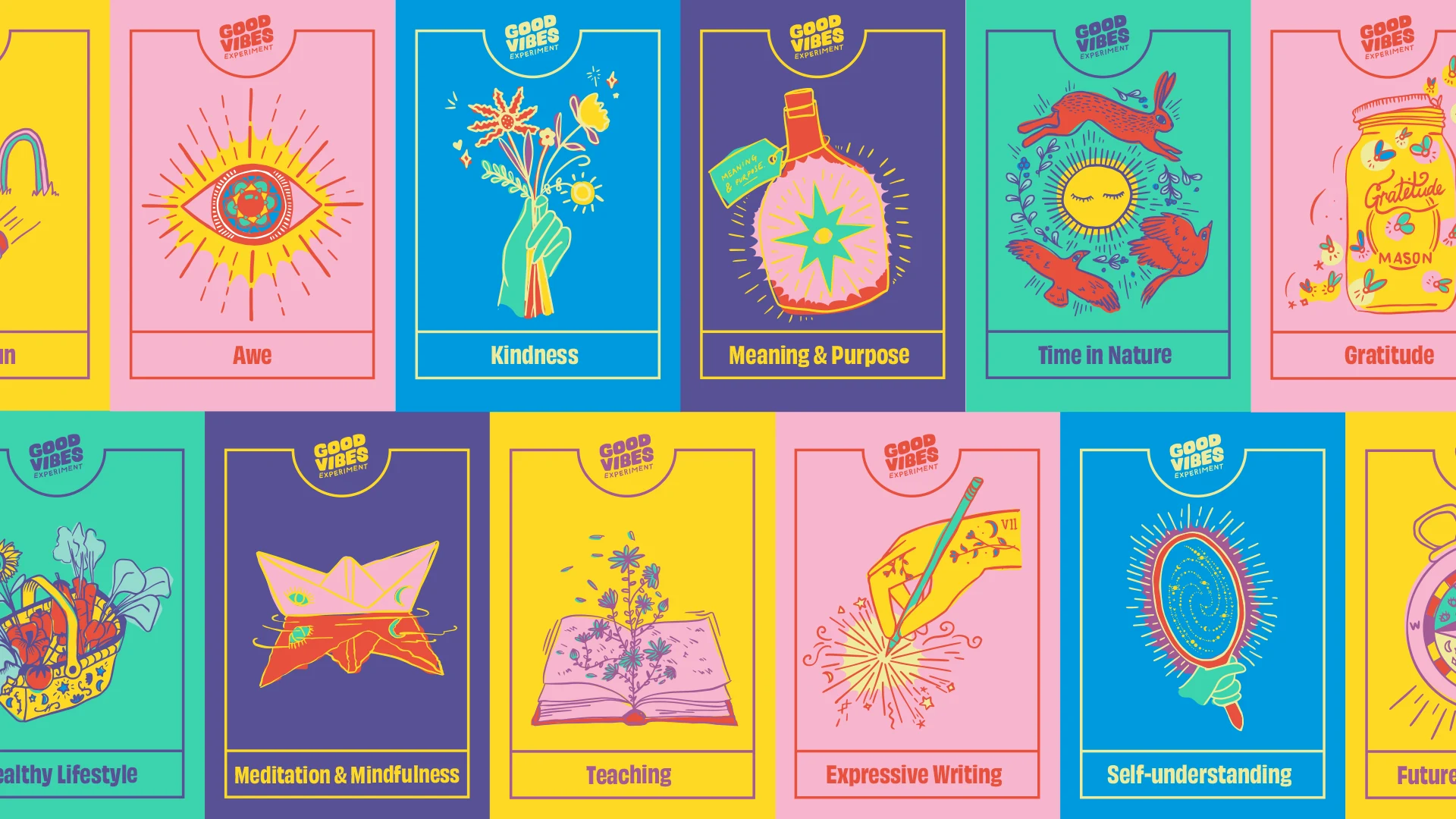 A bright vision
The Good Vibes Experiment is a student-led mental health campaign that encourages all of us to experiment with adding wellbeing-focused activities to our everyday lives. The goal is to help us develop the knowledge and skills necessary to improve, sustain or begin to repair and strengthen our mental health, all whilst having a bit of fun and connecting with each other.
Drawing inspiration
Mango Chutney loved crafting an extensive library of illustrations as the core graphic driver of the campaign. Playful and quirky yet always beautiful and meaningful, they conjure up a vision and tone just right to challenge the traditional expectations of a health initiative.
Tarot to go-go
Briefed to create a fun, playful, carnivalesque aesthetic with a slight mystical twist, the visuals all build on a core set of 20 evidence-based wellbeing tactics cards. Everyone's situation is unique and the activities are like taste-testers, you can build your hand, try a tactic, keep experimenting or try something different.
Full spectrum
An enormous range of collateral was created, ranging from the highly collectable and desirable enamel pins and tees, to the ephemeral and fleeting, such as the gratitude wall and postcards. The 100 page activity book is at the heart of the project and a delight to flick through — you can pick something that catches your eye and take on board the science and theory behind the fun activities too.
Forward thinking
Combined with a schedule of ongoing activations, the Good Vibes Experiment is a wonderful initiative to open up the conversation on mental health, reducing stigma and directly helping students — or anyone! — for years to come. Congratulations to the team at Flinders University for launching such a comprehensive campaign.